Vintage stainless steel kitchens: elegance and functionality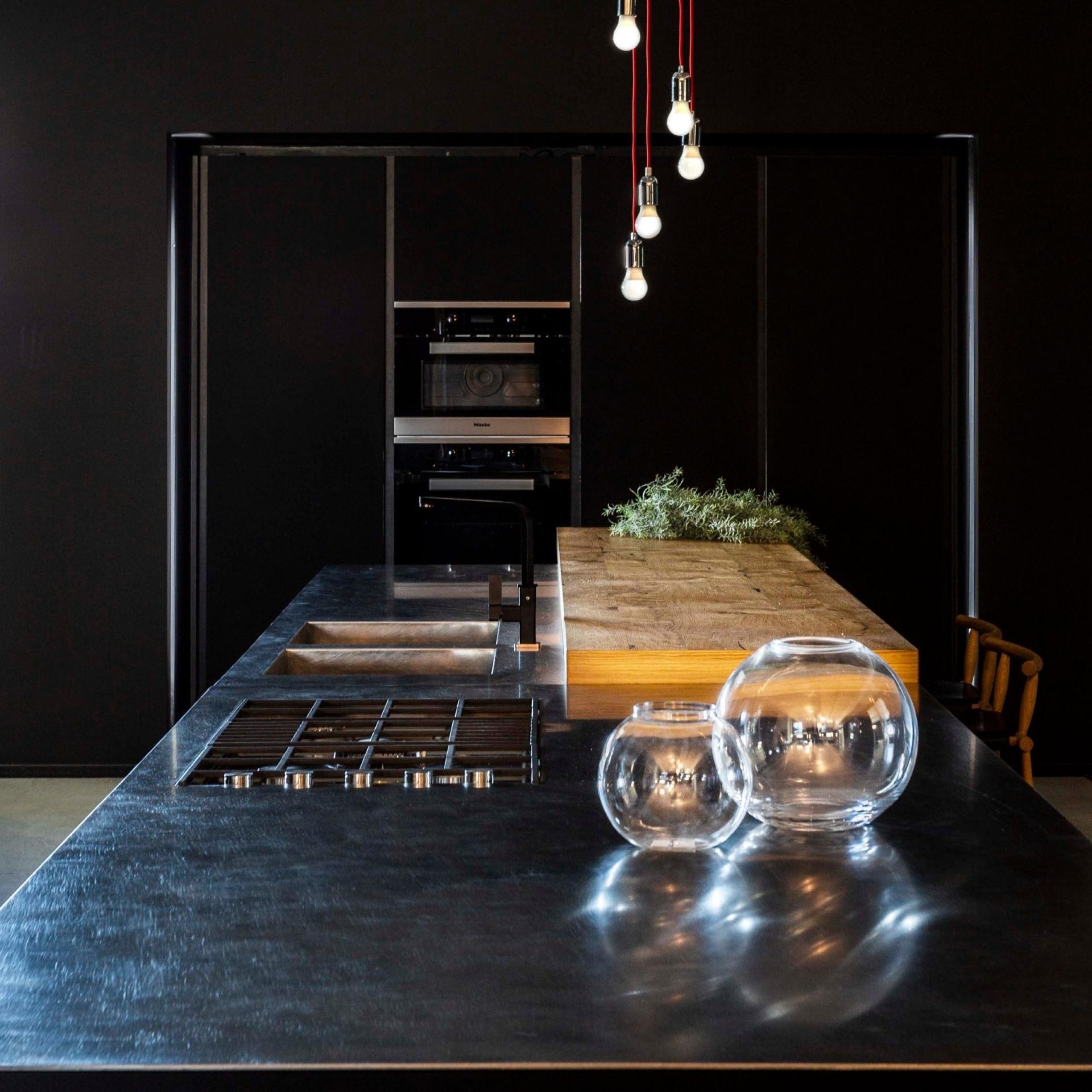 Vintage stainless steel kitchens: industrial functionality

It is one of the most popular choices in Italian kitchens: vintage stainless steel kitchens are rapidly winning the hearts of those looking for a solution capable of combining the elegance of the past with modern functionality. These industrial kitchens, made of high quality stainless steel, are inspired by the professional kitchens of times past, while adding a touch of sophistication and a unique style to today's homes.
What are the reasons behind the growing popularity of these cuisines? What are the advantages and disadvantages of stainless steel? You are about to discover this and very useful tips on maintenance, so as to preserve
the beauty and functionality of these kitchens
over time.
Before starting: what is stainless steel and what are its strengths and weaknesses

Stainless steel is an alloy of iron and carbon, to which chromium and nickel are added to give greater resistance to corrosion and hardness. Its composition makes it highly resistant to atmospheric agents, humidity and acids, ensuring long life and truly making it a perfect solution for the kitchen. In fact, the kitchen is typically a place where humidity accumulates and acidic and sometimes aggressive detergents are used.
Stainless steel is commonly classified into different categories depending on its chromium and nickel content. For example, 18/10 stainless steel indicates that it contains 18% chromium and 10% nickel.
Among the advantages of stainless steel, it is worth considering above all:
Corrosion resistance,
in fact stainless steel is typically famous for its resistance to corrosion, making it ideal for humid environments or those exposed to atmospheric agents


Hygiene,
because the smooth, non-porous surface of stainless steel prevents the proliferation of bacteria and makes it easy to clean


Robustness,
because stainless steel is resistant to impacts and deformation, ensuring long life and reducing maintenance costs


Aesthetics,
thanks to the bright and modern appearance of stainless steel it adds a touch of elegance and sophistication to any kitchen
Instead, among the defects of stainless steel, there are two that you absolutely must consider if you are thinking of purchasing a vintage stainless steel kitchen:


Sensitivity to scratches,
because, as resistant as it is, stainless steel can scratch easily, so you should avoid using abrasive sponges or rough materials when cleaning. It is also true that the stainless steel with a vintage effect is deliberately scratched.


Cost
, because stainless steel kitchens can be more expensive than other material options, although they are often considered a long-term, valuable investment
All these advantages and the very few disadvantages of vintage stainless steel kitchens typically transformed into beautiful and functional industrial kitchens have led this solution to be much loved by Italians. In fact, in recent years, the demand for vintage stainless steel kitchens
has increased significantly.
This phenomenon can also be attributed to other factors:
Timeless elegance.
In fact, the vintage design gives a touch of class and uniqueness to the home environment, attractive to many interior design enthusiasts.


Industrial trends.
Because the industrial style has become very popular in the furniture sector and vintage stainless steel kitchens fit perfectly into this trend, thus offering an urban and modern look.
It should also not be underestimated that vintage stainless steel kitchens can be customized to suit individual needs and preferences. You can choose from a variety of styles, colors and finishes to create a unique, bespoke kitchen. One thing that not everyone knows is that stainless steel can be used to cover walls, create shelves or incorporate decorative elements, thus allowing you to create a unique kitchen environment with character.


Durability and resistance.
The sturdiness and resistance of stainless steel ensure long life, avoiding the need for frequent replacements. In fact, stainless steel is a material renowned for its exceptional resistance and durability. This makes it perfect for supporting the weight of appliances, utensils and kitchen accessories, ensuring that the kitchen structure remains solid and stable over time. Furthermore, resistance to humidity and corrosion allows stainless steel to retain its original appearance even after years of use.

Finally, even the presence of small children or the most common pets is not a problem for vintage stainless steel kitchens.
Additionally, stainless steel can withstand extreme temperatures without warping or being damaged in the slightest. This feature makes it perfect for cooking over high heat or for using pots and pans directly on the kitchen surface.
The resistance to high temperatures also allows you to use stainless steel as a work surface to churn out delicacies directly from the oven.


Hygiene and ease of cleaning.
In an era where hygiene has become a priority for obvious reasons, stainless steel kitchens are highly appreciated for their ease of cleaning and antibacterial surface.
The smooth surface of stainless steel makes cleaning a breeze. All you need is a soft cloth and a mild detergent to keep your kitchen in perfect condition, without having to worry about persistent stains or built-up bacteria. Ease of cleaning is particularly important in the kitchen, where hygiene is essential for food preparation.

Furthermore, stainless steel is a safe material for use in the kitchen as it is free of harmful substances and does not react chemically with food. This ensures a hygienic and safe environment for preparing and storing food. The smooth, non-porous surface also prevents the absorption of odors and flavors, keeping food fresh and free of contamination.


Enhancement of the investment.
Stainless steel kitchens add value to properties, making them attractive to those looking for a durable and sophisticated residence.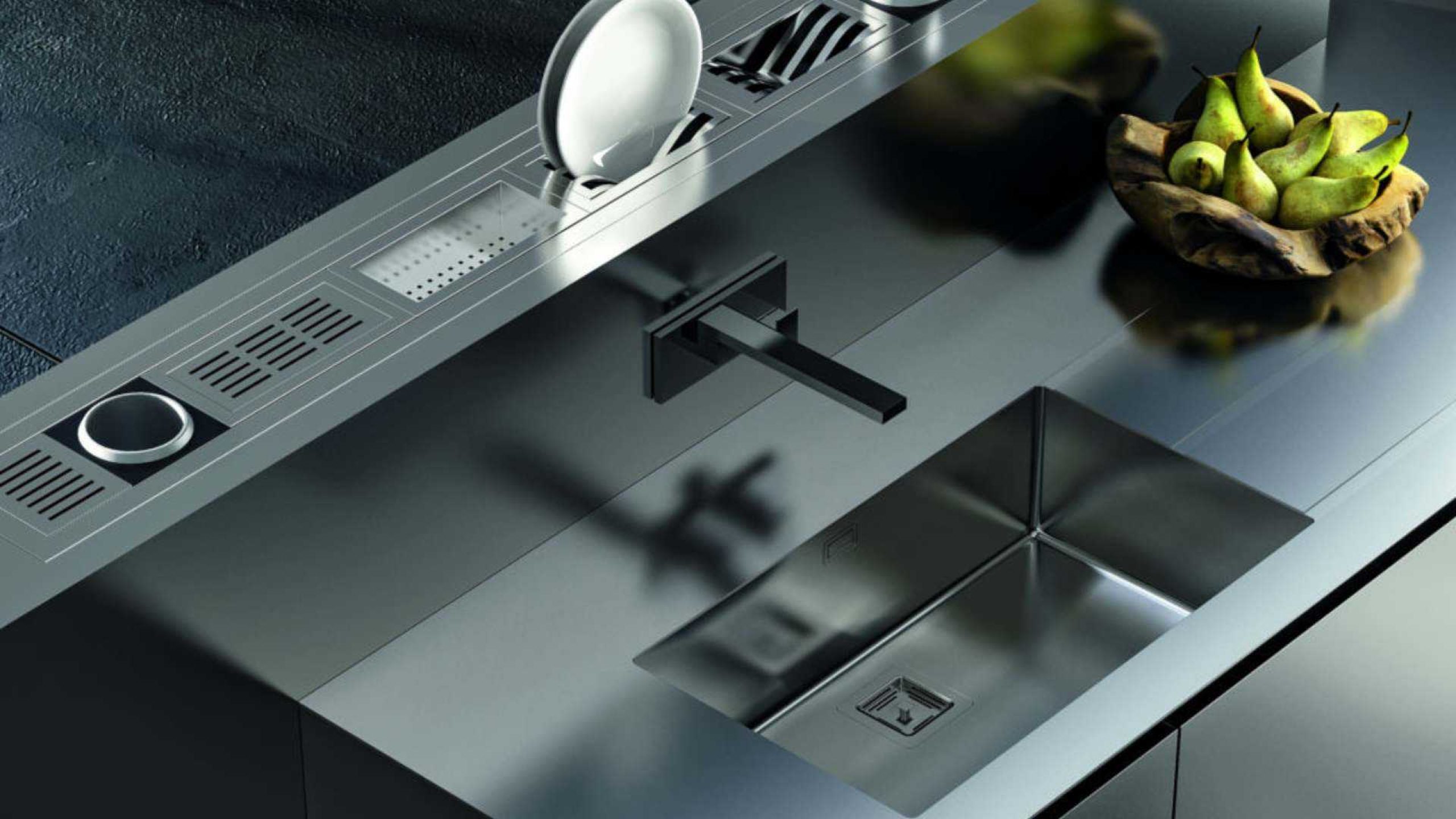 The timeless elegance of vintage stainless steel kitchens

The timeless elegance of solutions such as vintage stainless steel kitchens deserves a separate mention.
The charm of vintage stainless steel kitchens lies precisely in their timeless elegance. The attention to detail and high-quality materials give these kitchens a sophisticated and refined appearance that hardly goes unnoticed.
So here are some key elements that make these kitchens so fascinating:
Vintage stainless steel kitchens are inspired by iconic models of the past, with a design that recalls the professional kitchens of the 1950s and 1960s. Chrome handles, clean lines and neutral colors are distinctive elements of this timeless style.
The classic design gives vintage stainless steel kitchens a timeless look that fits perfectly into any furnishing context.

The use of high quality stainless steel is essential to ensure the durability and elegance of these kitchens. Stainless steel offers a bright and reflective surface, lending a touch of luxury and class to your surroundings.
The high-quality materials also ensure that the kitchen remains intact and free from signs of wear over time.

Many manufacturers of vintage stainless steel kitchens pay particular attention to craftsmanship details. The kitchens of these manufacturers are made with care and passion, giving life to unique pieces that bring with them the craftsmanship of the past.
Attention to detail is evident in the elegant finishes, crafted edges and precise stitching, which help create a high-quality, aesthetically pleasing vintage stainless steel kitchen.

Despite their vintage character, stainless steel kitchens easily adapt to different furnishing styles. They can be integrated into modern, industrial or traditional environments, adding a touch of originality and personality.
The stylistic versatility of vintage stainless steel kitchens makes them suitable for different aesthetic preferences and allows you to create interesting combinations with furniture and accessories of various kinds.

The timeless beauty of vintage stainless steel kitchens ensures that they remain relevant even as the years pass. This makes them a smart and sustainable furniture choice that resists changing fashions.
Unlike some furniture styles that can become dated within a few years, the vintage design of stainless steel kitchens maintains its charm and elegance over time.


The secrets of maintaining vintage stainless steel kitchens
To ensure you get the most out of your new vintage stainless steel kitchen and to ensure that it maintains its beauty and functionality over time, it is essential to adopt correct maintenance.
So here are some useful tips and suggestions for the maintenance of vintage stainless steel kitchens:

Carry out frequent cleaning with specific detergents for stainless steel and soft cloths, avoiding the use of abrasive sponges. Regular cleaning helps remove traces of food, grease and residue that could cause stains or changes in the appearance of stainless steel.

Remove fingerprints and smudges.
Stains and fingerprints can be easily removed with a solution of water and white vinegar. Simply rub the affected area gently with a damp cloth and dry it with a dry cloth to restore the surface to its original appearance.

Avoid using aggressive or abrasive substances that could damage the stainless steel surface. Additionally, it is advisable to avoid using harsh chemicals such as bleach or ammonia, as they can affect the finish of the steel.

If you use pots and pans with rough or sharp bottoms, you should handle them with care to avoid scratching the stainless steel surface. Also, avoid dragging heavy or sharp objects across the surface to prevent unwanted damage.

If deep scratches or signs of wear form, the stainless steel can be repainted to restore its original appearance. Hiring a professional to do this ensures a uniform, high-quality result.

10 tips to consider before purchasing a vintage stainless steel kitchen
Before purchasing a vintage stainless steel kitchen, it is essential to carefully evaluate some essential aspects to make the best choice. In fact, these kitchens represent a significant investment and, for this very reason, it is important to consider various factors before making a final decision. In addition to the wealth of information we have collected for you so far, we have also selected the 10 most important features to pay attention to in order to make the best purchase choice for a vintage industrial style stainless steel kitchen:

Space and size, two certainly essential factors when it comes to choosing your vintage stainless steel kitchen. It is essential to carefully measure the area where it will be placed to ensure that it fits perfectly and does not create any layout problems in the future.
If the kitchen is custom designed, you must also make sure to communicate all the necessary measurements to the manufacturer and evaluate the size of the appliances, cabinets and work areas.

Functionality and layout, two other characteristics that must be considered to avoid the risk of regretting the investment. In fact, evaluating your functional needs is truly essential to choosing the ideal vintage stainless steel kitchen. For this purpose, some of the things to consider are the frequency of use of the kitchen, the number of people who will use it and the main activities that will take place.
Opting for a layout that favors the convenience and efficiency of cooking and cleaning operations is certainly a winning choice. Finally, the arrangement of elements, such as the worktop, sink and stove, should always be designed to minimize travel and facilitate activities in the kitchen.

Style and design, because if it is a timeless aesthetic choice and a classic and timeless design, it must be created as a work of art. Precisely for this reason it is important to evaluate the aesthetic details, such as finishes, handles, colors and shapes, to choose a model that integrates harmoniously with the style of your home.
Vintage stainless steel kitchens can be customized with different decorative elements, so you can choose between more minimalist options or ones with more elaborate details, depending on individual preferences.
Materials and construction quality can greatly influence the lifespan of your vintage stainless steel kitchen, don't underestimate them! The quality of the materials used and the craftsmanship are fundamental aspects to guarantee the durability and solidity of the vintage stainless steel kitchen. Make sure the stainless steel used is high quality and corrosion resistant. Also check the quality of internal elements, such as drawers, drawers and wardrobe hinges, to ensure they stand up to daily wear and tear. Investing in a well-built kitchen ensures that it retains its value over time and offers optimal performance for many years.



Available budget and relative purchase price. In fact, the cost of a vintage stainless steel kitchen can vary greatly based on the brand, size, materials and level of customization. Establishing a clear and defined budget in advance is essential to orient yourself in the choice and not exceed your financial possibilities.

It is important to seek a balance between quality and price, finding solutions that satisfy functional and stylistic needs without compromising the solidity and durability of the kitchen.

There are many brands and manufacturers with different approaches and styles. Before making the purchase, it is useful to research the different vintage stainless steel kitchen solutions available on the market. Read reviews, evaluate the reputation and history of the company, this is all information that can help you locate reliable and experienced manufacturers in the sector.
Choosing a kitchen from a recognized brand offers greater peace of mind regarding product quality and after-sales service.
Functionality of the appliances because, even if the vintage stainless steel kitchen already includes the appliances, it is essential to carefully evaluate their functionality and performance. Make sure they are suitable for your culinary needs and that they are from reputable brands. In fact, some kitchens can be supplied with high-quality and technologically advanced appliances, while others can offer simpler and more traditional options.
Also take into consideration the energy efficiency of household appliances to reduce consumption and management costs.
Assistance and guarantee, a detail that is all too often underestimated until the need for it appears. In Italy, we are used to insufficient assistance from many companies. However, your vintage stainless steel kitchen represents an important long-term investment, so it is important to ensure that it comes with an adequate guarantee. Knowing the terms and conditions of the warranty is essential to prepare you in case problems or defects arise after purchase.
Also remember to check the availability of technical assistance and spare parts, it is very important to ensure that the kitchen can be maintained and repaired over time.

Customization, especially if you want a unique and tailor-made vintage stainless steel kitchen. It is advisable to evaluate the customization options offered by the manufacturer, because some companies allow you to choose from a wide range of details, finishes and accessories, while others offer more standardized solutions.
Opting for a customized kitchen offers the opportunity to express your personality and create a completely unique and original kitchen space.
Reviews from existing customers, something to always consider!
In fact, before making a decision, it is advisable to read the reviews of customers who have already purchased a vintage stainless steel kitchen from the brand or manufacturer of interest. This way you will minimize the risk of making mistakes that others have already made.
The opinions of other customers can provide valuable information about the performance, quality and reliability of the product and the company.
Vintage stainless steel kitchens are therefore a solution capable of combining elegance and functionality, becoming the beating heart of modern Italian homes. The growing demand for these kitchens is a result of their undeniable beauty and ability to provide a hygienic and safe dining environment.
Investing in a vintage stainless steel kitchen means embracing timeless style and enjoying a kitchen that will be enjoyed for many years to come. With correct maintenance practices, it is possible to preserve the elegance and functionality of stainless steel over time, ensuring that the kitchen always remains at its best.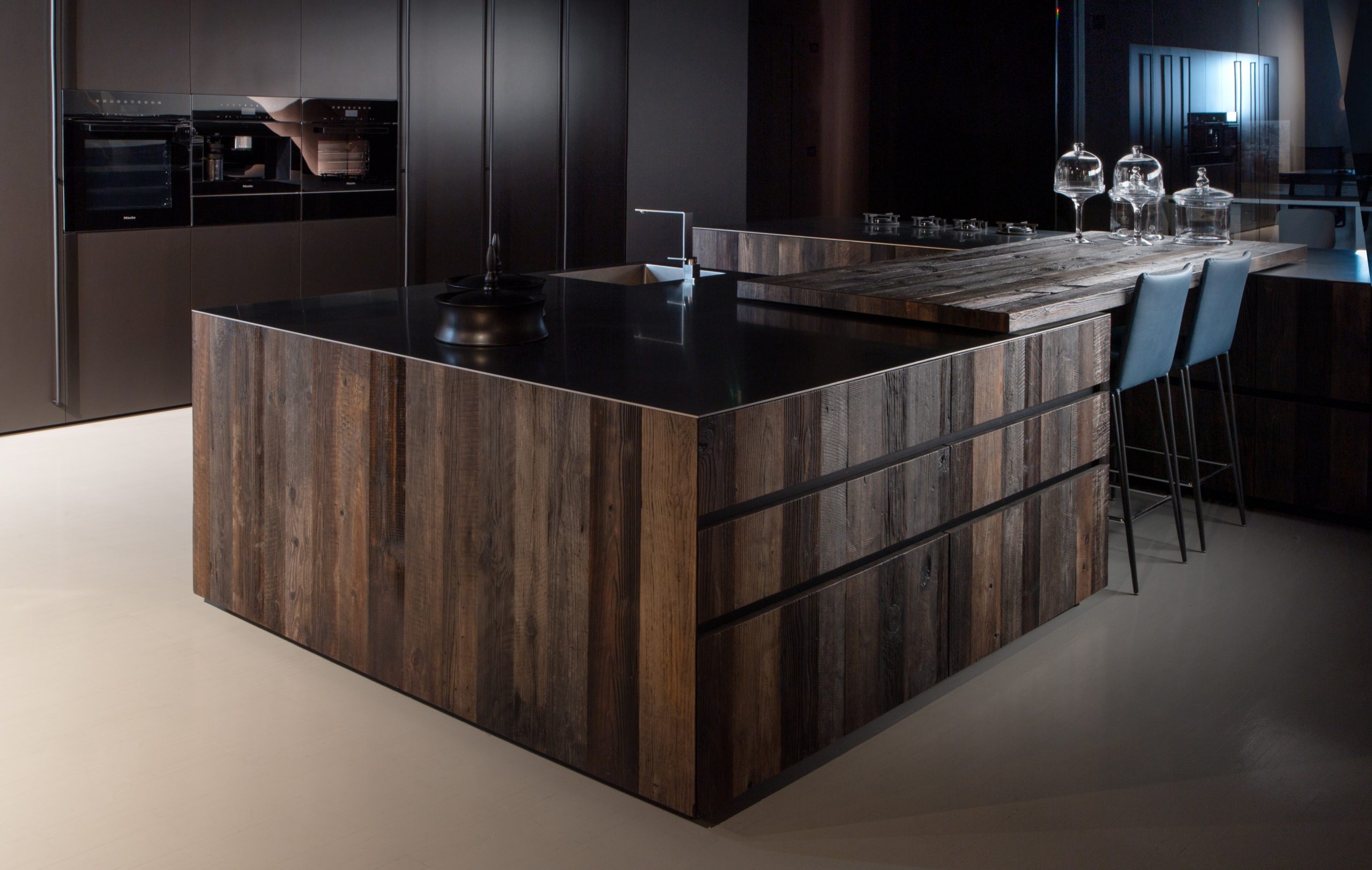 Kitchens with peninsula and table: creative ideas for you